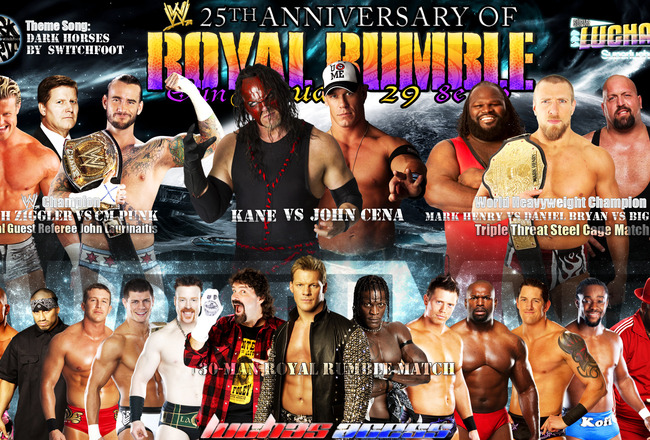 John Cena vs Kane
Finally, Kane get his opportunity to make John Cena rise above the hate, and Cena gets his opportunity to make hurt Kane after he injured Cena's friend Zack Ryder. This should be a dog fight. If Cena uses any tactics as he did in 2007 when he faced the late Umaga, he will have a chance, but with this mean streak that Kane has been on, Cena must rise above the hate in order to be successful.
My Prediction: Kane
Daniel Bryan vs Mark Henry vs The Big Show in a Steel Cage Match for the World Heavyweight Championship
Daniel Bryan has become a different man since winning the title in December at TLC. At that time, The Big Show did not look at him as a threat. However after the recent events that have transpired, Bryan has become very cocky and arrogant. Mark Henry, hell bent on regaining the World Championship has made it very clear that he will do whatever it takes to win. Bryan who was upset that his girlfriend AJ was hurt by the Big Show a few weeks ago on Smackdown, will do what ever it takes to gain vengeance. However, there will not be much room for him to run, and there will be no chairs for him to grab. He has often stated that he is the smartest wrestler in the world and at the Royal Rumble, he must prove it.
My Prediction : Daniel Bryan
CM Punk vs Dolph Ziggler for the WWE Championship with John Laurinaitis as Special Guest Referee
Punk has made it very clear that he hates John Laurinaitis. With the Laurinaitis evaluation coming up the day after the Rumble, he is almost forced to call this down the middle. Dolph Ziggler made it very clear on the go home episode of Monday Night Raw that he is not to be forgotten about and if Punk does forget about him, then Ziggler will be the new WWE Champion.
My Prediction: CM Punk
30 Man Battle Royal winner gets a title shot at the Championship of their choice
This Royal Rumble states that every superstar is eligible to be in the match, including champions. This will be interesting.
My Predictions
1st Chris Jericho
2nd Sheamus
3rd Wade Barrett