In order for the Baltimore Ravens to be successful they must do three things.
Joe Flacco Must Have a Career Day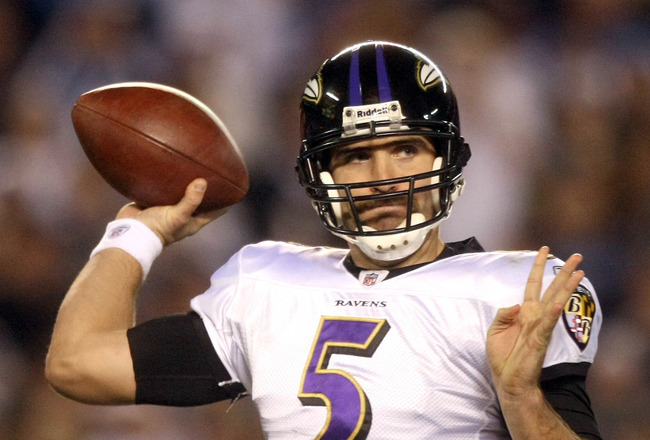 Since Joe Flacco's rookie season of 2008, he has led the Ravens to the playoffs each year, and secured a win in each trip. Many of his critics have stated that the Ravens have won these games despite Flacco's play. With the exception of the 2010 wild card game against the Kansas City Chiefs where he threw for 265 yards, he has yet to throw for over 189 passing yards. It is very important for Flacco to take advantage of the Patriots 31st ranked defense early. Last week, his two touchdown passes matched his career high. The last time Flacco faced the Patriots in the playoffs, his Ravens won 33-14, but he was 4 for 10 with 34 yards and an interception. After listening to the criticism from the media all week including his teammate Ed Reed, one better believe that Flacco is playing with a chip on his shoulder and Sunday he will have the game of his life.
Ray Rice Must Get his Carries
Since Rice became the starter in 2009, he has been the heart and soul of the Ravens offense. Between running to the outside, or catching screens and turning short yardage plays into game breaking first downs, Ray Rice has placed himself in the conversation of elite running backs. However, when Rice fails to get his carries, the results do not pan well for Baltimore. In the four losses the Ravens have had this season, Rice averaged only nine carries. Fans in Baltimore constantly criticize offensive coordinator Cam Cameron for this mistake, indicating that he was trying to test out his new weapons in wide receivers Lee Evans and Torrey Smith. In order for the Ravens to get their passing game working, they are going need their run game to be established first. With this weak defense that Rice is going against, he should have another career game against this defense.
Ravens Defense Must Contain Tom Brady
The Ravens defense are ranked 4th in the league and they are faced with the 2nd ranked offense. Tom Brady loves to sit in the pocket and pick defenses apart. For the Ravens, they will need to disrupt him, stay in his face and play team defense. If they can pressure Brady but fail to sack him, this allows Reed and Webb to get the turnovers. Turnovers are very important. Ray Lewis said that this will be a chess match tomorrow. Ravens defense have been hearing that they are old and will not be able to contain Brady, but with the Ravens playing at a high level against good teams, the defense will prevail.
Dedicated to my Uncle Michael Carroll Sr. (1961-2012)